This year has definitely been my year of change, with August and September being the craziest months of this year (so far as the year isn't over yet!).  I moved into a new house and also got married.  During that time I've only been able to post here and there on TeeDiddlyDee, but things are normalizing now (WHEW) and I'm back to business!
Here are a few favorite pics of my big day at Bison Ranch in the beautiful White Mountains of Overgaard, AZ.
My brides maids' dresses along with my wedding dress all ready and waiting…
It was time to get dressed!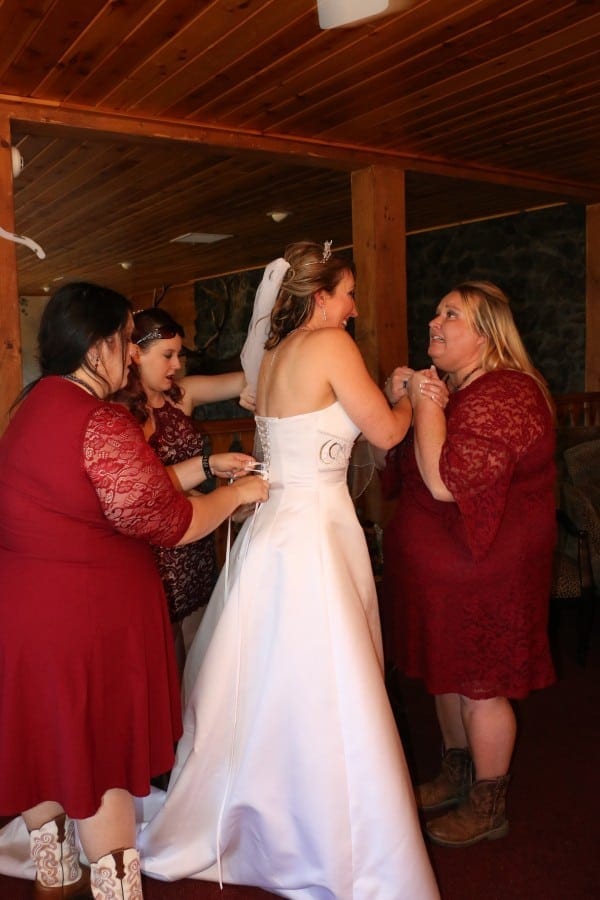 Here I am, seeing myself for the first time all dressed up…
My girls and I…
…and here they are checking out Austin's fancy ring, he is such a ham!
Austin and his groomsmen…
Austin and I were able to hold hands (without seeing each other) before the wedding…
It was time for the wedding to start as my handsome Lone Ranger made his entrance!
…and then my flower girls came (my grandma was one of them), they were so cute!
My ring bearer was just as adorable!  (luckily we found the rings…LOL)
It was finally time for my entrance with my parents…
Austin and I branded our initials into a log slice to represent our union.
At last we were married!
After the ceremony we took a little spin…
…and we lived happily-ever-after…