DIY Crawfish / Crawdad Trap
Last summer I decided I wanted to try my hand at catching crawfish (or crawdads, as I grew up calling them).
Now when I was a kid I remember my brothers and I snagging these elusive little buggers, one by one out of the lake, with our make-shift fishing poles (which we cleverly made out of sticks and old, used fishing line found on the banks of the lake). With worm-baited hooks we'd all patiently wait, watching as these skittish little creatures would slowly crawl out of their rocky, underwater hideaways, and make their way over to the delicious worm dinner that was on offer. As soon as the crawfish grabbed that fat worm with their claw we would pull the line up and BOOM, he was caught! It was all a fun catch-and-release game that we played and had hours of entertainment doing it 🙂
This time I wanted to make a trap to catch enough for dinner. Crawdads are like mini lobsters and are actually good to eat. Surprisingly, this trap was pretty easy and inexpensive to make! It also worked like a charm!
Tutorial:
Supplies:
One 2ft x 3 1/2ft sheet of chicken wire (use the type with 1/2-inch x 1/2-inch square holes)
Two rubber bands
Small chain about 6in in length (used to make handle for carrying trap and also for hooks to close trap door)
Package of zip ties
Strong string or rope (to retrieve trap from water)
Plastic water bottle (to serve as a 'bobber' for locating traps)
4-inch piece of wire (for securing water bottle to rope)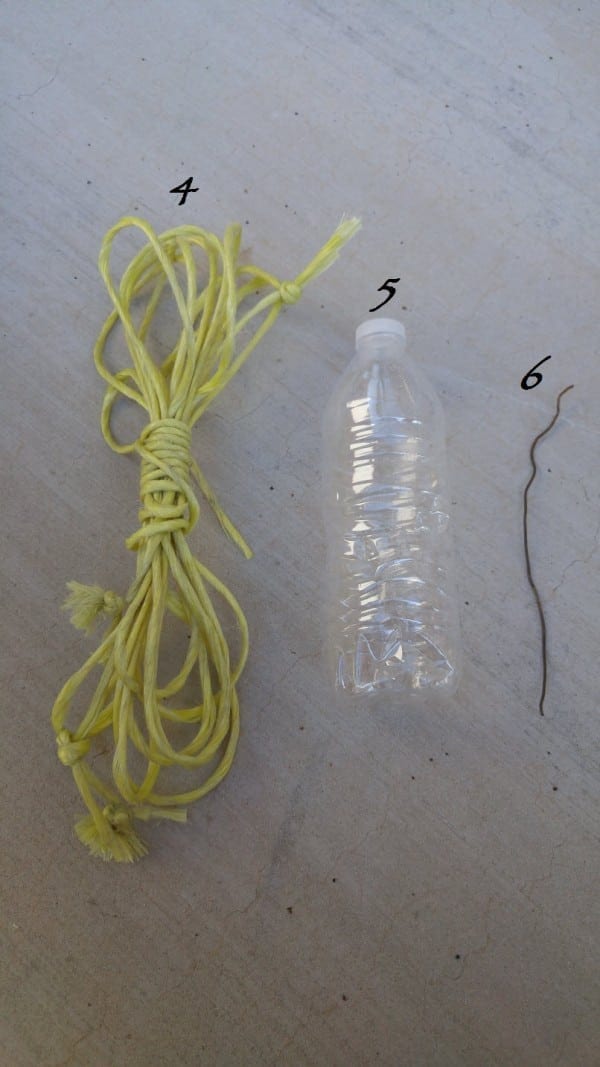 Tools:
Wire cutters
Needle nose pliers
Directions:
Body:
First, cut out a piece of chicken wire that is 48 squares x 43 squares in size.
Next, roll it up lengthwise to make a cylinder.
Then, overlapping the wire about 2 or 3 squares, zip tie the sides together, .
Make sure to cut the ends of the zip ties off short.
Sides of Trap:
After you finish making a long cylinder, cut 2 more pieces of chicken wire that equals 21 squares x 21 squares. These will be the end pieces of the cylinder. Now we will try to shape each piece into a cone shape.
To shape each piece into a cone, I marked an X with a marker to find the center.
Next, cut one corner up to the center.
To get that 'cone' shape, I pulled one end over the other….
…and kept pulling, making it tighter like the picture below.
Ta-Da!!! This is what it should look like.
Next, slide the cone into the end of the cylinder, making sure the cone tip pokes in about 3 inches.
After making sure the cone was at the desired shape, I secured it with zip ties
…and trimed off the zip tie ends.
The tip of the cone was then cut off, leaving a hole that was about 2 1/2 inches in diameter.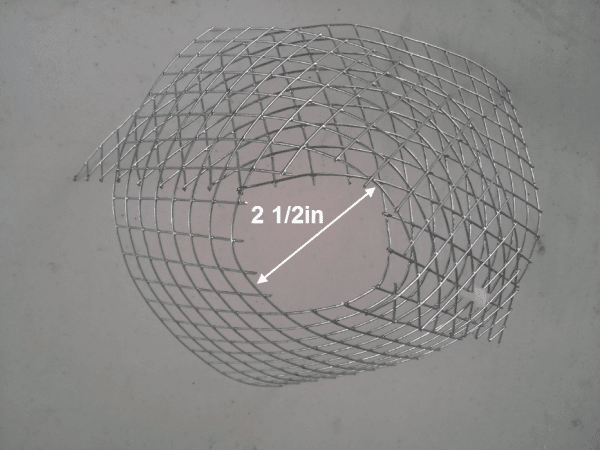 Attaching Sides to Body:
You guessed it, zippy ties were used to secure the cone into the end of the cylinder
..and yes, I trimmed those zip tie ends pretty short!!!
To finish this end off, the excess wire was trimmed away from the side piece to fit flush with the cone.
Your end should look like this.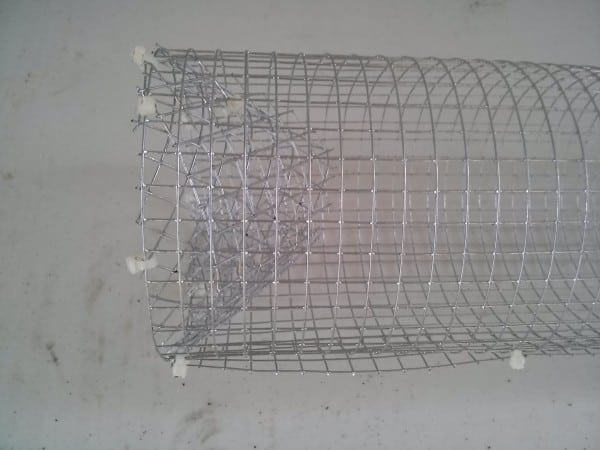 Peering through the side you can see the hole where the crawfish will enter.
The crawfish will be able to go in, but not out!
Last, I finished the other side by attaching the second cone to other end of the cylinder, the same way I did the first one.
Trim sharp edges flush with cylinder.
Handle:
Using 5-1/5 inches of chain, I made a handle for carrying my trap, simply by bending open both chain link ends on each end of the chain…
…and clamping them tight to my trap with needle nosed pliers in the center, top of the trap body.
Make sure your handle is centered on the trap before securing so it won't be lopsided while carrying it.
Opening and Door:
For removing the crawfish I needed a trap door, so I cut a hole into the center of my trap, starting about 3 square down from the chain handle.
The hole was 9 squares x 8 squares in size.
With what was left of my excess chicken wire, I cut a door slightly larger than the hole I just made in my trap. The door was 10 squares x 11 squares in size.
The sides of the door overlapped the hole nicely.
Then, I attached the door on the bottom side with a couple of zip ties.
Trim, trim, trim those zippies!!
Latching the Door:
For keeping the trap door shut, I used a rubber band and a piece of chain link, as shown below.
The rubber band was slid through the wire on the door…
…and looped through itself.
Pull rubber band tight.
I actually attached two of these that kept the trap door secured nicely 🙂
Simply stretch the rubber bands and hook shut!
My trap is done! Woot Woot!!!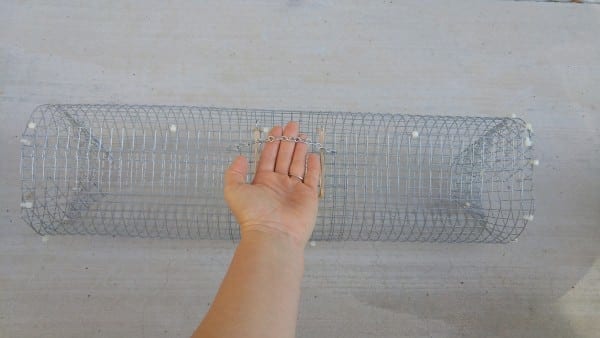 Keeping Track of Traps:
To keep track of my traps and for ease of retrieval from the water, I made some really FANCY 'bobbers' out of some rope, a plastic bottle, and a piece of wire. 🙂
Simply attach wire to the bottle, make a loop with the other end of the wire, then tie a rope to it.
Tie the other end of the rope to the trap handle.
The best part about this is I can slip a note inside the bottle with my name, phone number, and date & time that I set my traps. This informs any passers-by that I haven't abandoned them and that I'll be back later to retrieve my traps.
I was ready to go catch some crawfish!!! (yes I made two because one is never enough!)
Bait:
I'd heard that hot dogs were good for bait so I decided to give em' a try!

In action:
After tossing the traps into the water, my little plastic bottle 'bobbers' danced up and down like tiny water buoys, marking where the traps were…they did their job well!
Now it was time to wait….
I went for a long stroll along the side of the lake to explore the breathtakingly beautiful scenery as the pups rambunctiously romped through the water…Happy Dogs!!!!
After about an hour, we returned back to our spot to see if the new traps had any treasure in them. I was excited to pull them up to see what was inside!!!
Score!!! I caught three crawfish to be exact…One in one trap, and two in the other!!!
This little guy was happily munching away on his hot dog!
Next time I'll try leaving the traps in for a longer period of time to see if we catch more! 🙂
Now it's your turn to give it a try!
DIY Crawfish / Crawdad Trap
---
Sharing at these great link parties:
The Hearth & Soul Celebrate Your Story Inspire Me Monday You're the Star Inspire Me Monday Inspire Me Monday Wonderful Wednesday Recipe & DIY Linky Project Inspired Inspire Me Tuesday Thrifty and Chic Creative Muster Party Wow Me Wednesday Talk of Town Party Homestead Blog Hop Tuesdays with a Twist Home and Garden Thursday
More great link parties I'm sharing at:
To Grandma's House We Go Simple Homestead Blog Hop Waste Not Wednesday Party in Your PJs Thursday Favorite Things Grace at Home Keep in Touch Home Matters Party Friday Feature Funtastic Friday Friday Favorites Family Homesteading/off the Grid Friday at the Firestation Handmade Otherwise Happy Pink Saturday Dare to Share Saturday Sparks Create, Bake, Grow & Gather A Morning Cup of Joe! Happiness is Homemade Sundays Best Link Up Saturday Shuffle Blog Hop Over the Moon Dishing it & Digging it Merry Monday