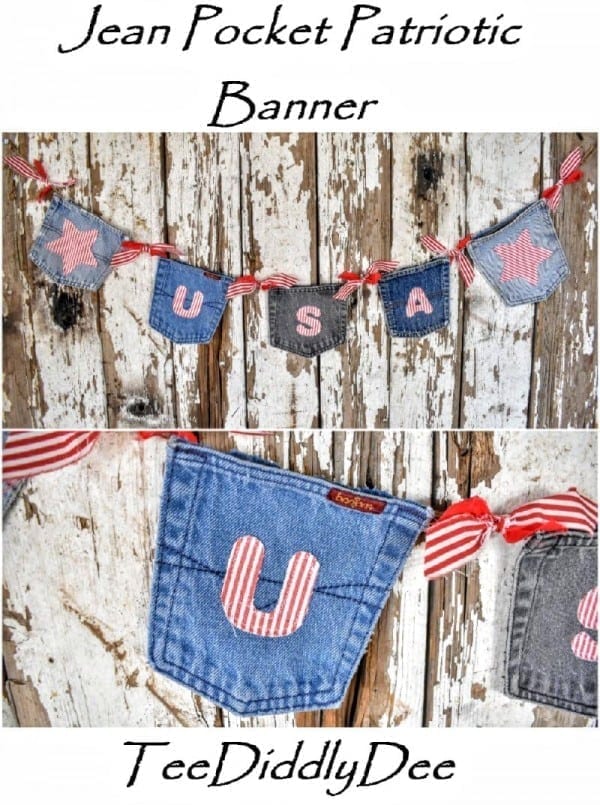 It's just a few days till our country's birthday and I thought I'd squeeze one more patriotic project in!  This awesome little banner is so simple and I love how it enables us to recycle those favorite holey jeans that we keep holding onto, hoping that one day we'll somehow find a way to mend them…(but we know that'll never happen, right???).
I have my grandma to thank for this project as she secretly made this banner for me for my birthday…and since my birthday always lands on Flag Day, it was very fitting!
(Thanks Grandma Audrey!)
Here's how to make it:
Tools:
Scissors
Pencil
Sewing machine or needle and thread (if you choose to hand sew)
Supplies:
Five pockets from old jeans
Half a yard of red and white fabric (for the letters)
Red and white ribbon (to tie in-between pockets)
Jute string (to hang banner)
Letter stencils including a star (make sure the letters and star will fit onto pockets)
Jute string to hang banner
Cut out 5 jean pockets
(Make sure to cut them out so that the back part of the pocket is still intact with the front part)
Gather the fabric that you'll be using for your letters…
Trace your stencils onto the fabric and cut them out (a pencil works great, as the marks won't show once you cut out your letters)
Sew on your letters
(Sew right through to the back of the pocket)
Using a hole punch, punch two holes into the back of the pockets and then run a string through to hang
Tie some red and white ribbon in-between the pockets
DONE!  That was easy!