DIY Cat Enclosure / Catio – Video
DIY Cat Enclosure / Catio
I built this catio a few years ago because I had a couple of adventurous kitties who hated the fact that for safety reasons 'MOM' would not let them go out to play.  It got to the point that they both would sit and wait by the door for a chance to sneak to freedom every time I entered or left the house…the little stinkers! 😛  So I decided it was time to build them their own outside 'kitty land'.  It's definitely a large enclosure but can easily be made smaller if you don't have a large yard.
I hung some planters along the enclosure to give it some pizazz…
…and also a bird-feeder for the kitties' bird watching enjoyment!
My cats absolutely LOVE spending time outside in their enclosure!
I basically made the whole catio into 11 separate panels that I later assembled: 3 front panels, 3 back panels, 1 panel for each side, and 3 panels for the roof.  Oh, and we can't forget the door 😉  Because this enclosure is made out of individual panels, it's easily removable if you ever decide to relocate to another house!
DIY Cat Enclosure Tutorial
Want to print out this tutorial without the ads?
Click here to download my DIY Outdoor Cat Enclosure / Catio PDF Printable Tutorial for only $5!
Dimensions:
Length 21ft
Width 8ft 6in
Height 8ft 4in
Tools & Supplies:
Supplies:

Approx. fifty three 2x3s
Roll of chicken wire (4ft tall)
Box 3in screws
Some 1x6s (for kitty walkways)
Hinges and latch for gate
Scrap plywood (platforms for kitties to lay on)
Railroad ties to set enclosure onto (get enough ties to place around whole perimeter)
Tree branches (you will screw the plywood platform pieces onto the branches and then screw the branches onto walls of enclosure)
Some L-brackets (if needed) to reinforce where the 2x3s are screwed together
Cat door (I shopped around and finally bought mine here because they were the most affordable…it took me forever to pick the one I wanted because of the HUGE selection!!! LOL)
Tools
Chop saw
Skill saw
Hand drill
Staple gun
Compressor for staple gun
DIY Cat Enclosure Instructions
First of all, the railroad ties were laid out and leveled…they are the foundation that the enclosure sits on
I proceeded to start building the first 8 panels out of my 2x3s…the first 8 panels are all the same size and built the same way. I used the 3in screws to screw all of the 2x3s together. For every panel I built, chicken wire was stretched tightly and then stapled securely before setting it aside to work on the next panel.
Since these next panels were against the house, I didn't put any chicken wire on them
Now for the oddball sized panels…I didn't put chicken wire on this one either because it was also against the house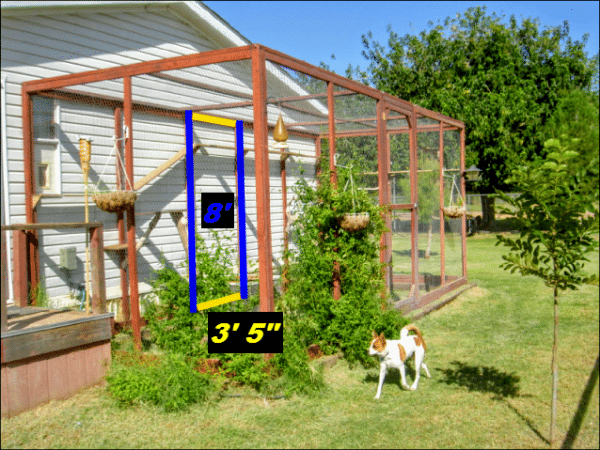 Don't add any chicken wire to the gate panel! A gate will be built to fit inside this panel.
Chicken wire this panel
Can't forget to build and chicken wire the gate! After I finished building it, I mounted the gate to the gate panel that I made sure NOT to chicken wire
After the panels were built, I proceeded to erect the enclosure on top of the railroad ties
Screw end panels into side panels
Screw roof panels onto lower panels
After enclosure is erected, anchor with screws to railroad ties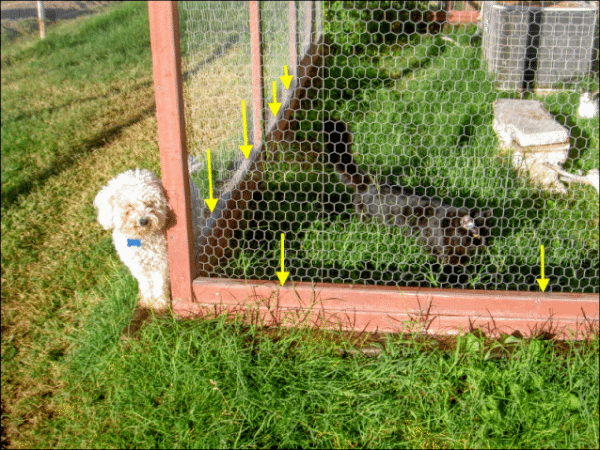 I also anchored the top rail to the house with my 3in screws
Walkways were built with 1x6s cut to size, while scrap triangles were used as the braces for the walkways
Scrap plywood and old branches were added to make natural looking perches for the kitties to lay on.
For mounting, I simply drilled a couple of screws through the ends of the branch perches and into the enclosure panel to secure them.
I installed the kitty door into the window so they all could come and go as they pleased! 😉
Finished!
Want to print out this tutorial without the ads?
Click here to download my DIY Outdoor Cat Enclosure / Catio PDF Printable Tutorial for only $5!
Update:
David and Susan from the small town of Bancroft in Ontario Canada made a fantastic kitty enclosure, using my tutorial as a guideline.  It turned out beautiful!!
Lots of creative perches and walkways for the kitties…
Since they wanted pressure treated wood, 2×2's were used instead of 2x3s for the framing, to save on money. Also, notice the solar lights they added to the top of the enclosure…great idea!
Although not shown, they added 12in tall screening around the whole bottom parameter of the enclosure, since a few little chipmunks and frogs were getting in by crawling through the chicken wire.
Here is their kitty door, installed into the basement window. To save money on the stairs, they went to Home Depot and traced the outline of a stair stringer onto a board. Then they went home, cut out the pattern, and put the stairs together using cheap pine. Clever!