I had an evening outdoor party coming up and wanted something that would give a fun, sparkly ambiance at night.  After a little thought, I decided that these awesome little wine bottle candles were what I was going to create!
"I'll just need a few", was what I told myself…but after hanging these lit up beauties from a couple branches in my tree, I immediately decided that my other trees were feeling a little jealous and wanted a few dangling in their limbs as well!
The night of the party my yard was transformed into an elegant, lit-up wonderland…with all of the tree trees proudly showing off their dangling glowing luminaries.  I received LOTS of compliments that night about my pretty little candles to say the least!
I put a slew of them in my trees.
Sparkly wonderland!
It's SOOOO easy to cut bottles!  Check out my video below:

(You can either purchase a bottle cutter HERE, or check out my tutorial HERE on how to make a bottle cutter like mine for under $10!)
Tools
Needle nose pliers
Wire cutters
Supplies
60 grit sandpaper (to quickly sand sharp edges of bottle after cutting)
Decorative Chain (about 2ft long)
Glass votive candle
Key ring
Bottomless wine bottle
Roll of wire (I used 14 gauge)
I go over the sharp edges of my fresh-cut bottles with sandpaper
Attach key ring to one end of the chain
On the other end of the chain, unbend the end link so that it makes a hook
Slide chain through neck of bottle so that it hangs from the key chain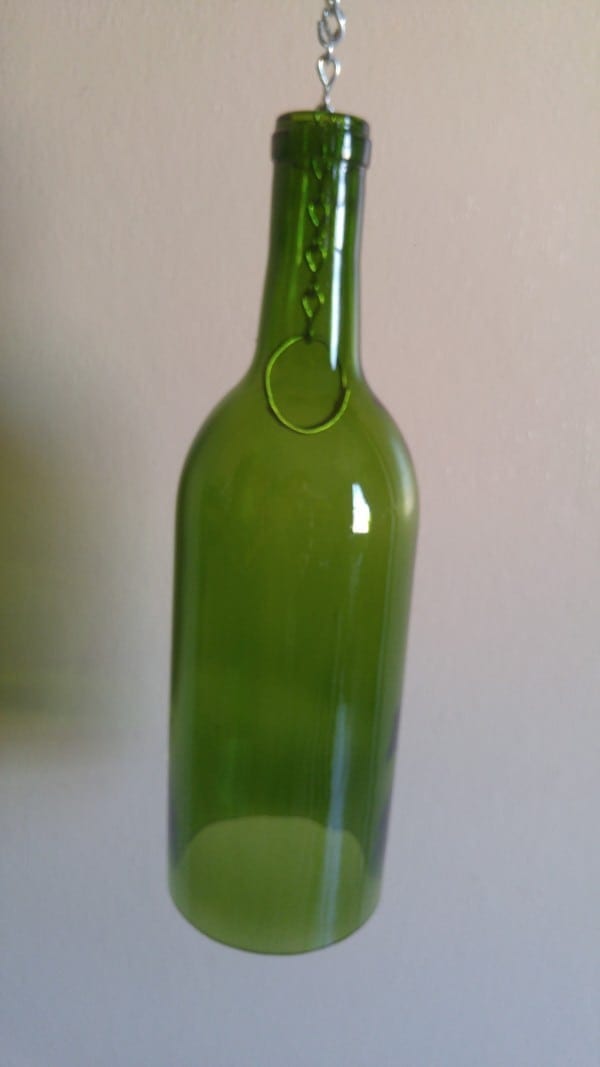 To hang, loop the chain around something high and use the hook you made to hook into the chain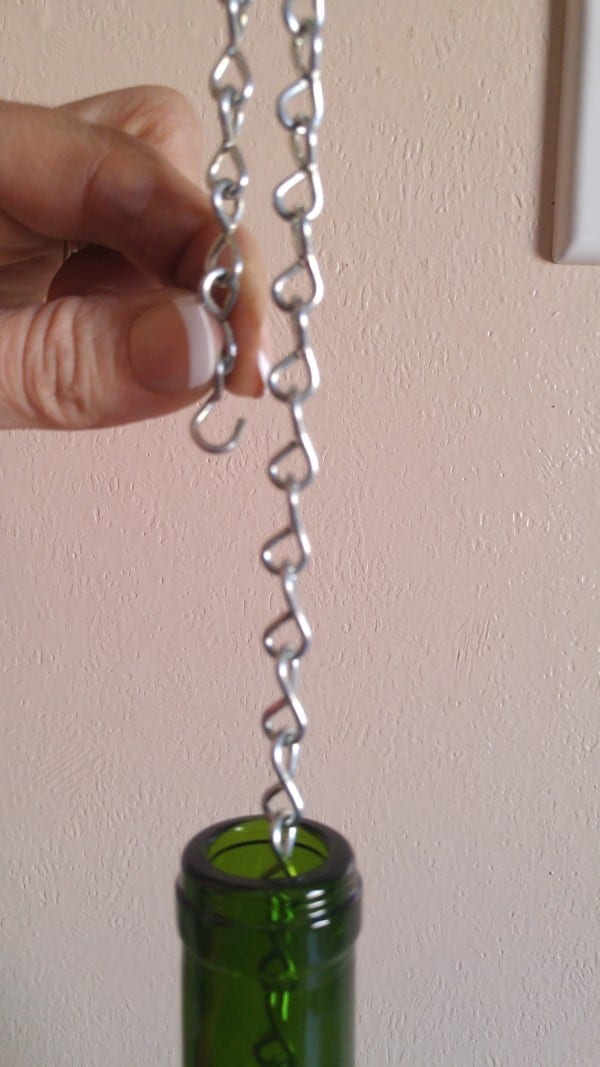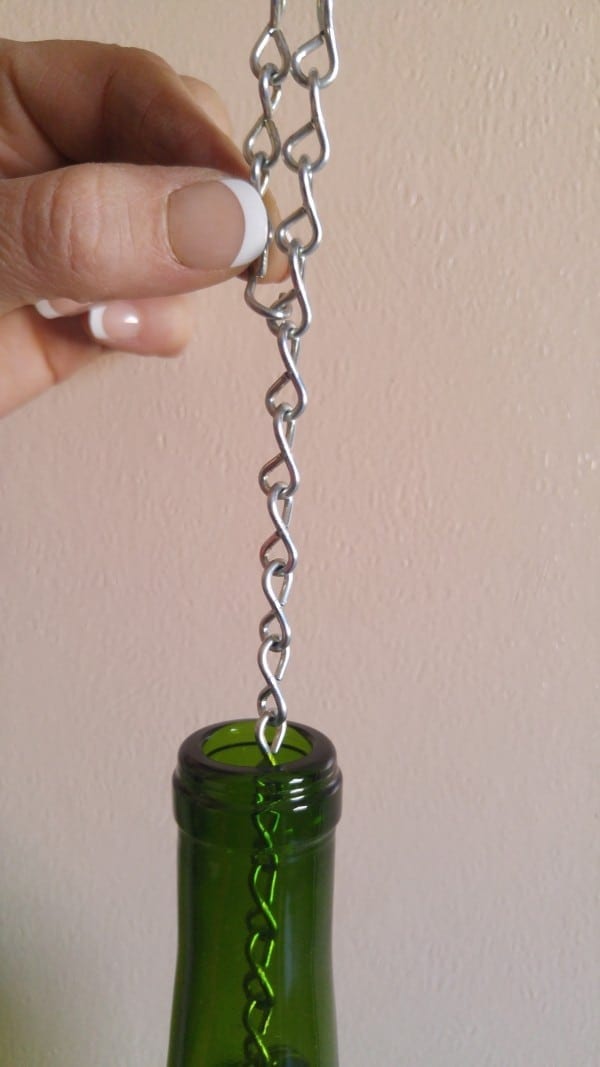 Gather your needle nose pliers and wire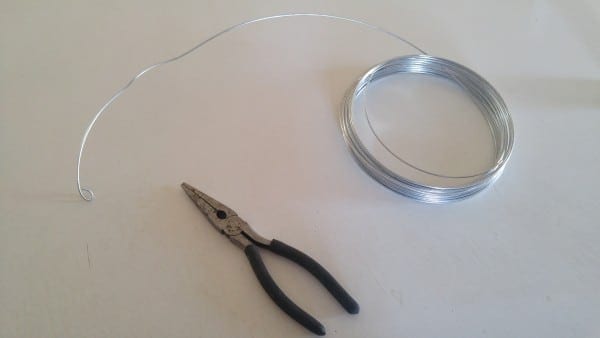 Make a small loop at the end of the wire
Hold your candle up to about where you'll want it to sit inside of the bottle
While holding the candle, place the end of the wire up to about where it'll also be hanging.  You'll make an approximate 90 degree bend in the wire right below the top of the glass votive candle
Now twist wire around candle making a corkscrew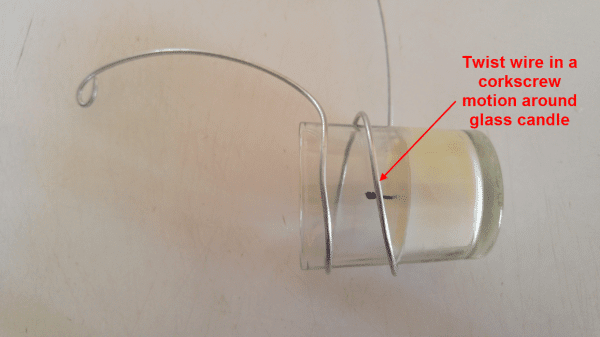 I make about 6 or 7 twists
Cut off the end of wire
Twist end of wire into a small corkscrew
Holding both ends, stretch corkscrew out longer
Twist and turn bottom half of corkscrew so that it tapers down smaller.  This part takes me a few minutes to get the wire looking how I want it
Place candle in corkscrew
Attach the top of the corkscrew to the key ring
Pull candle and corkscrew into bottle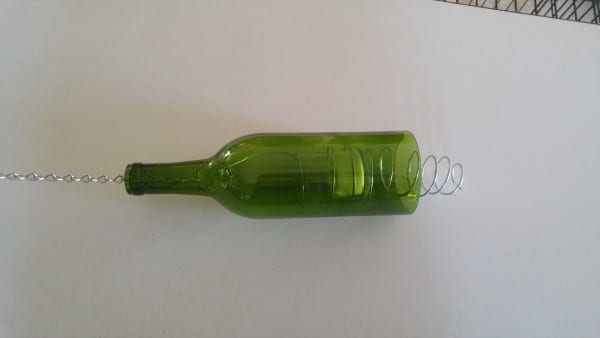 Hang wherever you like!